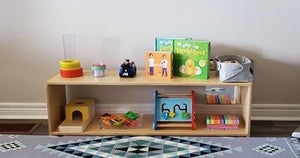 We are not stocking these, but making the to order.  Please allow 1-2 weeks for completion.  If you want something custom, please contact for quote. 
Keep it simple! These shelves are designed to be low to the ground and open so your child can explore and safely pick toys that work with their own personal interests while also creating the stepping stones for an independent player. 
18mm Baltic Birch Plywood (Furniture grade) and finished with a polyurethane.
Dimensions: 13" high, 11.25" deep, 45" long 

We are making these to order so please contact us.