Welcome to the home of JL Woodworking!
We are a custom woodworking and cabinetry company local to Ottawa, ON. We service from Carp to Brockville, and from Stittsville to Orléans.
We do custom kitchens, cabinetry, furniture, and have a line of children's products.  If you do not see something you are looking for, please do not hesitate ask us, as we are always eager to help.
Please visit our catalog, where you can find our products for purchase! Or contact us for your custom request.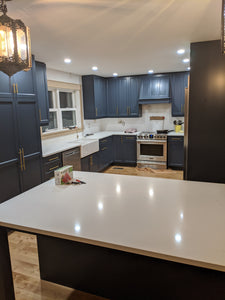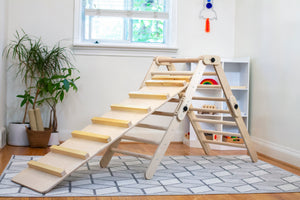 So far we have ordered a Pikler Triangle, stairs/boat, and cube chairs. Everything has been wonderfully crafted and my children love playing with their new toys. Jordan is very responsive to messages and customer service is great.

Fatima Altaf
Just picked up our Pikler triangle and ramp from Jordan.
Not only is it beautiful but our girls love it. The quality of the work is very high. Working with Jordan was a pleasure. Looking forward to working with him again in the future.

Miquela Skinner
We purchased a Piker Triangle and the accompanying slide, as well as a learning tower about a year ago for our then two-year-old. I can safely say that this is some of the best money we have spent. The quality of both pieces are beautiful, and definitely stands up to use by a very rough little boy. The design of the tower, in particular, is genius as it folds, unlike may of the other ones out there. Thanks again, you guys - we really genuinely 💕 our purchase !

Kelly Ka Ling Kan
My Pikler triangle was beautifully made and all 3 of my kids (aged 8m to 3y) love it. His customer service and craftsmanship is amazing. I would highly recommend him and would order from him again in the future.

Erin Leigh
All their products are amazing and beautifully and lastingly made. I've bought rainbow 🌈 stackers both natural and colours, table and chairs, kitchen helper and now a multi-fold and I would buy everything if I could afford it ...and had the space! Kids love all the products too!😁👍 You seriously can't get better local and AMAZING quality!🙌🏾

Curly Keish